As a team of fitted bathroom installers, one of the first things we often find when starting a new bathroom installation is that the customer often says:
'Are you the plumber?'
For us, this creates a sense of trepidation as in reality we want to say, 'no, I'm your bathroom installer'. The problem then arises in how you differentiate between a plumber and a bathroom installer. For us, with our many years' experience fitting bathrooms and kitchens, the distinction is an easy one to make, but for customers, it can often be confusing.
What is the difference between a plumber and a bathroom installer?
Put simply, a plumber simply does what it says on the tin, they plumb. A bathroom installer – installs bathrooms.
It might seem rather strange to think there's a difference between the two but when it comes to it, the difference is almost as diverse as the difference between a brain surgeon, and a cricketer.
A plumber is a specialist in his (or her) field of plumbing of hot and cold water pipes and central heating systems. They spend many years going to college to learn their trade and then spend the majority of their lives performing many installation tasks within their chosen field. Be it boilers, radiators, various pipes and pumps, and of course baths, showers, basins and toilets.
That is where the difference starts. As specialists in fitted Bathrooms (and fitted kitchens for that matter), a bathroom installer spends their time performing a wide range of tasks and has to become a specialist in many different areas within the course of their job.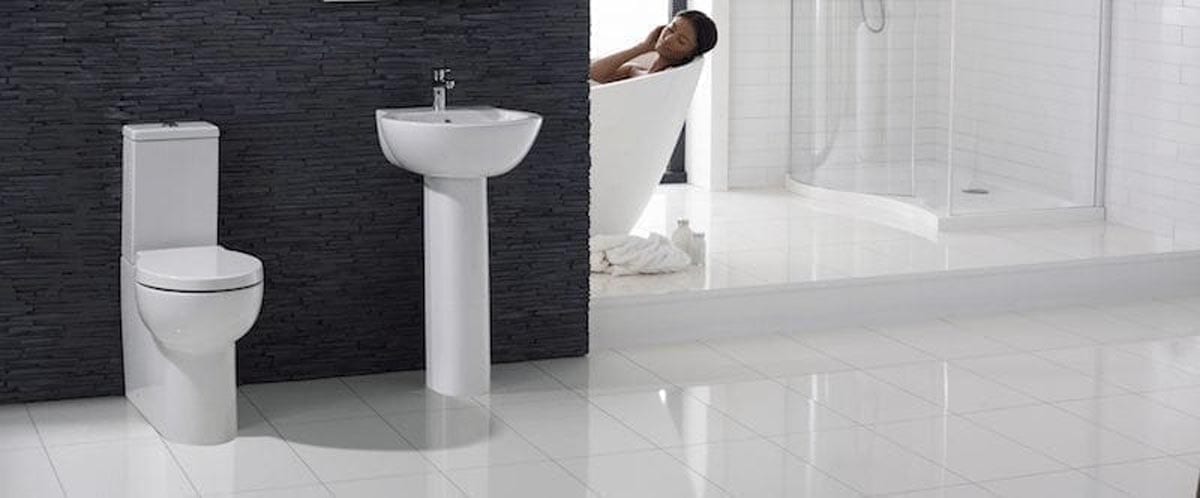 What does a bathroom installer do?
Within the course of supplying and installing fitted bathrooms, we have to become specialists in many different fields. It would surprise you to know that when you train to fit bathrooms, you have to have knowledge and skills in almost all trades imaginable. Most of the time, we find ourselves learning and working in the following fields:
Plumbing
Tiling
Joinery
Electrician
Building
Plastering
It takes a great deal of time to become specialists in such areas and we are always constantly learning and perfecting our skills to ensure that we give the best possible service.
To be able to fit your own bathroom is a very handy hack in life that everyone should learn how to do!
Can you go to college to become a bathroom installer?
Would it surprise you to learn that actually, yes! you can go to college to learn how to become a bathroom installer!
A common misconception is that any college or school will teach you to become a bathroom installer. Unfortunately this isn't so, however in recent years, the BIKBBI have introduced a new bathroom installer course.
There are some colleges or courses available that will teach you all the skills and knowledge needed to fit your own bathroom. There are some courses which will teach you the very basics, like plumbing, tiling and joinery etc. There are also courses that will teach you everything you need to know to become a bathroom installer!
How can I become a bathroom installer?
The best way to learn how to fit your own bathroom is to start where most people do. Pick a trade that you enjoy that has a lot to do with being a bathroom installer. The two most obvious choices would be plumbing or tiling. Both of these trades are essential in becoming a bathroom installer as they are what is used most within our trade.
After you have spent time performing your chosen trade, it then takes time to extend your skills into the other areas needed to become a bathroom installer.
At best, we feel it takes at least 5 years of experience within any chosen field before you are ready to become a bathroom installer, and as such that is why we as a company only employ skilled tradesmen who have shown a dedication to become a bathroom installer.
We spend a great deal of time with each of our installers and apprentices training them to become a bathroom installer and we know that we are all constantly evolving.